Converting Contents.
Dazzling Designs.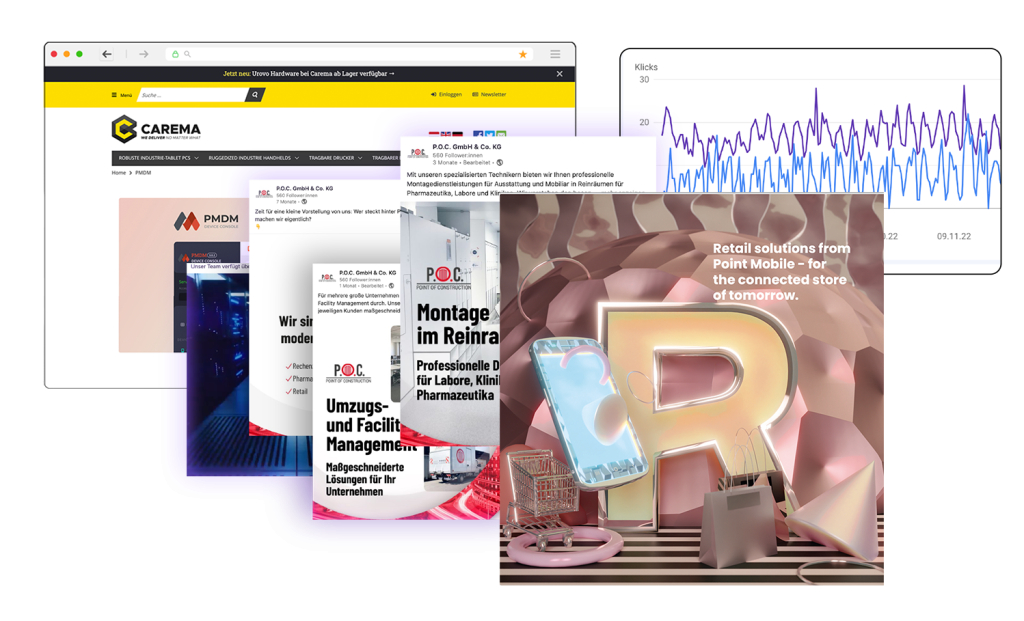 Spark, engage, grow, leverage, and boost your marketing with angaero.
Drive growth to your brand
angaero specializes in B2B marketing for small and middle-sized businesses, and helps companies to make their brand visible by creating the right contents for their audience.
We've got some exciting news for you: We just opened our offices in South Korea. Come say Hi!
Our creative heads deliver
artwork

, materials

, solutions
based on your requirements
Let us create engaging content, boost your search visibility, and drive targeted online advertising.
Graphic Design & Motion Graphics
Whether you're in search of captivating graphics for your website or eye-catching advertisement banners in all sizes, we've got you covered. We love crafting motion graphics and creating stunning 3D renderings. If you're ready to dive into a world of boundless possibilities, come and explore what we have in store for you.
Sales Coaching & Strategy
Discover the art of selling like never before with our strategic expertise and tailored sales coaching and consulting services! At our core, we are passionate about helping businesses thrive by crafting effective sales strategies. Whether you're aiming to boost your revenue, expand your market reach, or optimize your sales processes, angaero can do it!
Content Marketing, Ad Copy & SEO
We specialize in catching ad copy, SEO optimization, and growth strategies. Let us create engaging content for your products or services, boost your search visibility, and drive targeted online advertising. Ready to supercharge your brand? Let's get started!
Whether you look for a sleek and modern design or a vibrant and interactive interface, we have the expertise to bring your ideas to life. Ready to make a lasting impression in the digital world? Let's design your online masterpiece together!
Achieving more - together
Let's make headlines together: We love building strong media relationships, and crafting compelling narratives that elevate your brand.
Our skilled photographers have a keen eye for taking the perfect shot of your product, event or offices.
Do you need your copy or materials professionally translated? angaero takes care of this.
We also offer support for trade shows, conferences, roadshows, in-person or virtual events.
"We were struggling with updating the contents on our website and social media channels. Thanks to angaero, we now have engaging contents and designs – frequently."
"Our sales in Switzerland have the utmost priority. angaero optimized our website, created beautiful, converting landing pages, and took over our Google Ads campaigns with great results!"
"Our new website now perfectly resembles our services. angaero supported us from the initial concept all the way to the launch day of the website. We couldn't be happier!"
"From animation and 3D renderings to ad copy for websites – angaero is our favorite agency for outsourcing our creatives. We are excited for the next projects to come!"
Start your journey with angaero
Whether you are looking for a reliable partner to handle your PR or if you need specifically formatted designs - angaero is your B2B marketing partner.
What types of services is angaero offering?
Our marketing offerings include a wide range of services such as digital marketing, content marketing, social media marketing, email marketing, inbound and outbound marketing, as well as SEO (Search Engine Optimization), and PPC advertisements on platforms like Google Ads or LinkedIn. We are also experienced in traditional platforms like print media.
angaero offers creative services like graphic design, product photography, motion graphics such as videos, animations and 3D renderings. 
Which countries or regions is angaero specialized in?
With our offices in Düsseldorf, Germany, and Seoul, South Korea, angaero covers European countries as well as Asia. Did you know we speak German, English, Korean and Spanish? 
Does angaero only focus on B2B marketing?
We are mostly a B2B marketing agency with a strong focus on helping our business customers grow. However, we also offer B2C marketing services. Please get in touch with us for more information. 
I need individual support for my sales teams - Can you help?
Yes, our sales specialists and strategists are experienced in building and improving company-wide sales processes. With our help, your sales will be shifted to the next level!